Downward communication is the communication where information or messages flows from the top of the organizational structure from the bottom of the organizational structure. Downward communication occurs when information flows down the hierarch form superiors to subordinates. This type of communication may forms such as staff meetings, company newsletter, company policy statement, information memos, e-mail, face-to-face contact, orders, instruction etc. some important definitions of downward communications are given below:
According to Bartol along with Martin, "Downward communication is a verticla communication which streams style an increased levels to help more than one cheaper levels within the organization. "

According to Medical professional. Urmila Rai, "Message which in turn should go in the increased authority levels to the cheaper levels is actually downward communication. "

According to Ricky W. Griffin, "Downward communication happens any time facts streams lower the actual power structure style finer quality than subordinates. "

According to Newstorm along with Davis, "Downward communication within an organizastion is the flow involving facts style increased in order to lower levels of authority. ".
The graphical presentation of downward communication is as follows: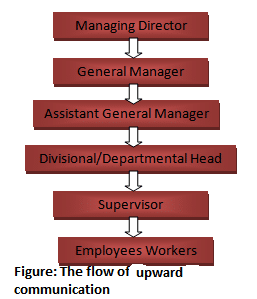 So, downward communication is the communication where information or messages flows from the top level of the organizational structure form the bottom level of the organizational structure.
Objectives or purpose of downward communication
It is a system of communication where communication takes a place form upper level to downward or from the superior to a subordinate level. The following objectives are available in downward communication.
Supply information: Workstyle, method, responsibility, duties, etc. are supplied to subordinates by this communication system.
Assigning work: Through downward communication, superior assigns different works to their subordinates.
Explaining policies and plan: The objective of an organization is to inform the institution's plan, policy, program, etc. to a lower level by this communication system.
Responsibility and duty: Interdepartmental duties and responsibilities are distributed by this communication system.
Directing subordinates: Downward communication is directive in nature. To give directions to the subordinates, top executives use this communication method.
Evaluation of performance: Top executives evaluate the performance of their subordinates through this communication method. After evaluation of worker's works, the analyzed result is informed to others for an incentive.
Explain the change environment: Any change or organization's plan, policy, method and program are informed to all employees with the help of this communication system.
Coordination and cooperation: To coordinate and cooperate with the subordinates of their works downward communication is needed. For the achievement of an expected result, downward communication is the best method.
Delegate authority: In a large organization, it is very much essential to delegate some authority to their subordinates. Without downward communication delegation of authority is impossible.
Establish discipline: Top-level hierarchy of the organization try to maintain organizational discipline through downward communication to their subordinates by issuing job-related rules and regulation.