The communication which is performed through any written document is called written communication. In the communication world, when messages or information is exchanged or communicated in written form, it's one of the forms of communication called written communication. It is a word-based communication system. Memos, letters, reports, notes, email, etc. are communication mediums used to transmit meaning in written communication.
Written Communication Definition
The definitions of written communication are as follows:
According to Bovee and others, "Written communication is the expression of ideas through words that are meant to be read."

C.B. Mamoria also defined written communication as, "A written communication process is always put into writing and generally used when the audience is at a distance or when permanency of record is required.

According to Ricky W. Griffin, "Written communication is the message that is encoded and transmitted in written form."

R. Pal and J.S. Korlahlli also defined word-based communication as, "Everything that has to be written and transmitted in the written form falls in the area of written communication."
So, in a nutshell, written communication is the process of communication in which messages or information is exchanged or communicated between sender and receiver in written form through communication channels.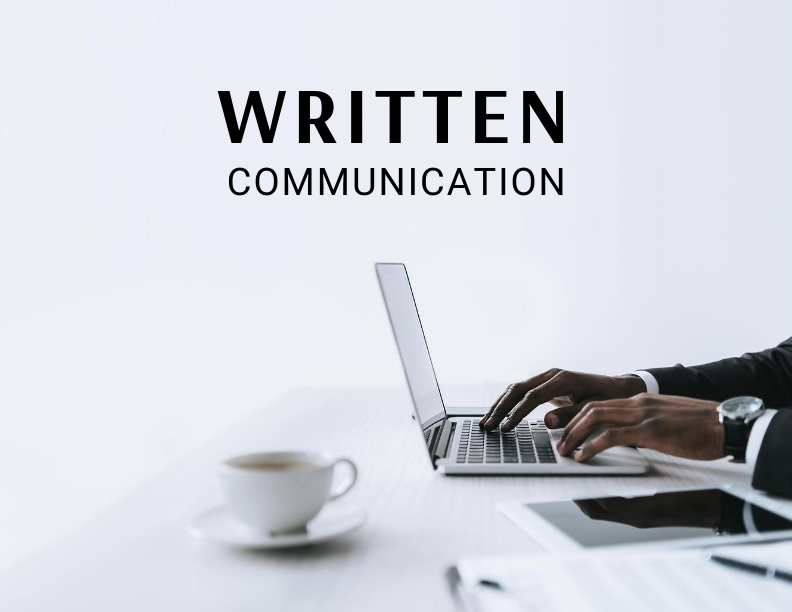 Characteristics of Effective Written Communication
Characteristics of good written communication are discussed below:
Easy language: Easy language should be used in written communication. The sentences of written communication must be understandable to the reader. Utilizing easy-to-understand words and languages is essential in the communication world.
Structure: Definite structure must be followed in drafting any written document. Every written form has its own structure.
Accurate and precise: A well-written document must be accurate and precise. Written communication insists on greater accuracy and precision.
Direct speech: Direct speech should be used in written communication. It is always recommended for writers to write in the active voice rather than passive voice. Indirect and passive sentences must be avoided.
Paragraph design: A good written communication bears a paragraph design. Paragraphing is also important to clear communication.
Error-less: A well-written document must be free from error in both grammar and language for better understanding and clarity – effective written communication.
You-attitude: There must be your attitude in written communication. The reader can be impressed for this. In such communication contexts, you will be able to communicate better with readers by limiting communication barriers.
Personal and organizational images: A good written communication bears the personal image of the writer. It also increases the organizational image as a whole. Whether written in diplomatic language, casual language, or formal language, effective business communications showcase top-notch communication and information literacy.
What are written communication skills?
Written communication abilities (or skills) are referred to as those things necessary to get things accomplished. Even though they share a number of characteristics as verbal communication, there are still some specific differences that set them apart.
In scenarios where verbal communication uses body language and voice tone, written communication is dependent on grammar, punctuation, and word choice. The ability to develop good written communication skills requires attention to detail and regular practice.
How to Improve Written Communication Skills?
When writing anything text, whether quick email or complicated sentences, here are some things you must put take into consideration:
Set your goal before writing: it is important to know what you want to achieve before getting to work. The goal you want to achieve might be to get your audience in mind glued to the body content or ensure people engage your email. It must be clear and simple.
Include only essential details: keep the content informative without unnecessary details. It should only include additional details that are of value to the readers, answers critical questions, and direct.
Draft outlines: for long content, it is essential to create outlines to avoid complicated sentence structures. This will make it easier to pour out your mind and develop better contents.
Maintain professionalism: if you are sending a quick email to close co-workers, it is important to keep it professional. A great choice of approach is to consider the visibility of the email to everyone within the office.
Edit Well: editing and proofreading is a big plus when delivering content. You should edit thoroughly to ensure positive additional feedback from recipients. Avoid grammar, punctuation, and vocabulary errors.
Take your written communication ability to the NEXT LEVEL by following these simple guidelines and staying true to them. Enjoy the process!