Internal communication is the process of exchanging information among people of different levels or internal participants within the organization. This form of communication simply involves the use of internal communications strategy aimed towards business success. Internal comms involves proper communication within the business organization across all hierarchical levels.
On the other hand, external communication is an informal exchange of information and messages between an organization and other organizations, groups or individuals outside its formal structure. The important differences between internal and external communication are as follows: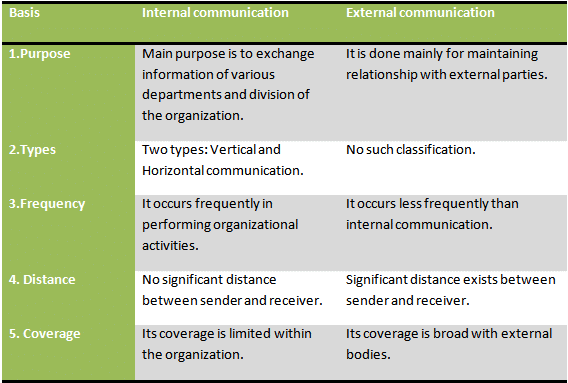 Difference between interpersonal and intrapersonal communication
Intrapersonal communication is the process of sensing, thinking, perception, evaluating and interpreting events within the self-mind of an individual. For intrapersonal communication, different persons may respond differently to a single message because of differences in their individual level of perception and thinking.
On the other hand, interpersonal communication occurs when two individuals are involved or exchange ideas, information, opinions, feelings relating to the personal, social, organizational, national and international matter who are located in the same place. Interpersonal communication can involve both internal and external audiences and requires good communication skills to ensure effective communication amongst participants. Here, employee and customer feedback plays a huge role.
The important differences between interpersonal and intrapersonal communication are as follows: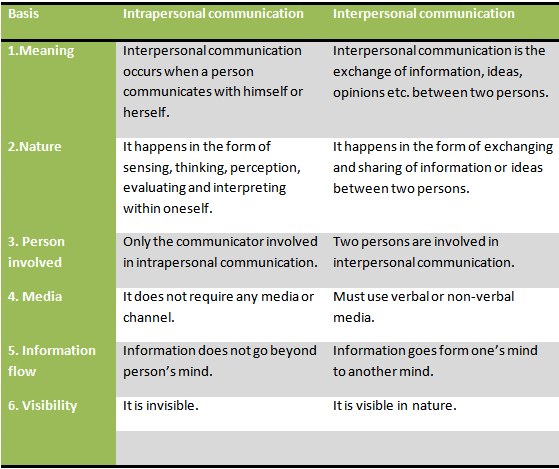 External Communication Examples or Medias
Telephone: The most commonly used means of external communication is telephone. Nowadays every medium and large-sized organization has a telephone by which the organization can communicate externally. Nowadays, distinct entities within the organization structure utilizes modern communication tools such as mobile phones to improve communication amongst the remote teams, internal teams, and external teams.
Telex and fax: One of the popular means of external communication is telex and fax. To communicate with foreign organizations telex and fax are the best and quick channels but it is not affordable to small organizations. It helps promote organization exchange and increases external communication deals domestically and internationally.
Local messenger: Local messengers can be used to communicate externally in the local areas. As it is expensive, its use is limited. It allows for informal communication between business entities and target audience.
Face to face conversation: Sometimes this media is used to exchange information with other organizations. It is an important means because both parties talk face to face. This type of communication involves personal contact and boosts company image across the vast business environment. It also helps to build a strong community on a daily basis.
Mass communication: External communication can be performed through mass communication. Nowadays many organizations take advantage of mass media to communicate externally and even promote external campaigns. Mass media are newspapers, radio, television, etc.
Internet: The fastest media of external communication is internet. To access the internet facility you must have a telephone set or a computer set with a functioning network provider. It connects the world and provides access for prompt transfer of information. This mode of communication is used for business communication and with the introduction of social media platforms, through social media posts, companies can reach out to potential customers and garner better attention of customers.
Others:  Some other means of communication that serves as a bridge for communications from management to employees across the organization structure include e-mail, Courier, Satellite, Information service, etc. This type of communication channel ensure adequate communication between individuals, communication from managers to employees, and erases communication gaps and improves business chances of success.